It's that time of year when many people are spring cleaning their homes. Sounds like a weekend project to me. But it's time Spring Cleaning gets Clean.
Green cleaners can be just as powerful as all the ammonia, bleach and chemical cleaners and disinfectants out there (and they cost wayyy less). Using natural, organic products is much less caustic to your skin, lungs and body - they don't expose you to toxic chemicals and you can rest assured knowing your home environment is naturally clean, fresh and nontoxic. Anywhere and anyway you can avoid more chemical exposure, the better. Plus, the outside environment appreciates less chemicals too!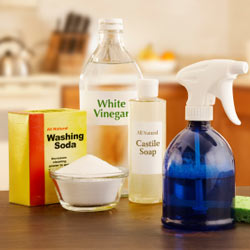 Check out this
Dr. Weil Tip
on how to green your clean...
Some key green cleaning ingredients to have on hand:
White vinegar (general disinfectant and cleanser, I have a dedicated spray bottle)
Baking soda (amazing for scrubbing bathtubs and grout, removing any grime)
Lemons (similar uses to white vinegar, while smelling much nicer)
Old rags, sponges and toothbrushes (keep a bucket for giving your used items a second life)
If you're not ready to dive into the do-it-yourself cleaners, look for
natural
,
biodegradable
bottled options in the grocery or hardware store. Many cleaning services now offer or specialize in "green" cleaning options as well.
The internet is a wealth of resources for every kind of cleaning project or problem you can imagine, as is the library! One of my favorite books on the matter is Ellen Sandbeck's
Organic Housekeeping
(In Which the Nontoxic Avenger Shows You How to Improve You Health and That of Your Family While You Save Time, Money, and, Perhaps, Your Sanity).
Happy Spring Cleaning!